The #1 start-up accelerator in Belgium
Start it @KBC is a unique startup accelerator because we're 100%-no-strings-attached and founder-centric. We support courageous entrepreneurs in making an impact through their passion and ambition.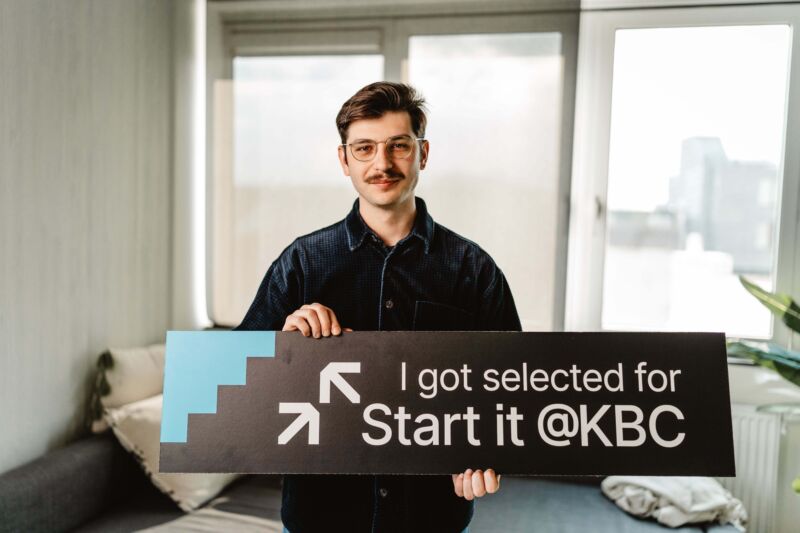 A unique one year program to speed up your growth with the support of vast expertise, an enormous global network, an inspiring work space and quality mentorship.

Your investment: FREE (no strings attached!)
Capacity: 65 selected participants
Application deadline: September 19th
Duration: 1 year
We are now accepting applications for our Fall cohort!
Get guidance to overcome growing pains.
Get connected to business partners and investors.
Move beyond borders and expand your market.
Why apply?
Our accelerator works with innovative businesses of all industries and all startup & growth phases. We're looking for enthusiastic & open-minded founders of all backgrounds, genders, ages and nationalities.
No strings attached
Start it @KBC DOES NOT ask for equity, money or expect you to become a customer of our partners. All we ask for is motivation and engagement.
Grow your network
Start it @KBC is the #1 Belgian ecosystem of startups, scale-ups, mentors and experts.
Grow your business
Get guidance on funding, get connected to business partners and get valuable advice from our mentors and experts.
Grow your skills
Sharpen your skills and put them into practice by learning from real experts.
Grow your market
Move beyond borders thanks to our international partners, our hubs in New York and Budapest, as well as the global community through our GAN membership.
Get personalised coaching
We assign a member of our team to you to advise you, to match you to our volunteer mentors and partners, and to guide you through the events, workshops and promotional opportunities that are most relevant to you.
Boost that bootstrapping
You can use our co-working spaces in Antwerp, Brussels, Budapest, Ghent, Gyor, Hasselt, Kortrijk, Leuven, New York & Prague + get over $1 million of perks through GAN.
Get smarter at Start it Academy
Start it Academy is exclusively for those who are taking part in or who have graduated from our accelerator program. The knowledge-packed program includes:
Online & in-person workshops, talks and webinars
Sector-specific content, tailored to your business
Exclusive offers, free or exceptional discounts on partner offers
Access to Experts in the Cloud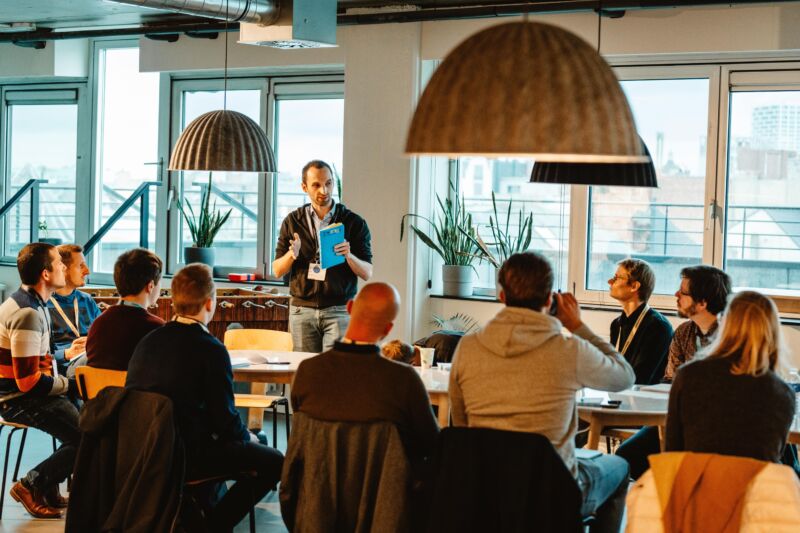 Application process
Apply
Fill in the application form by the application deadline. Once applications open, we will announce info sessions where you can ask any questions you have about the program.
Pitch
After our review team reads the applications and makes their selections, we invite the whole founder team to pitch for 3 minutes to our jury.
Selections
After pitching, we make our final selections for the program – get ready to accelerate!
Full one-year program
01 Bootcamp
The new cohort is invited to a mandatory 2-day bootcamp to take part in workshops, mentor mayhem, partner introductions, and get to know the Start it @KBC team better.
02 Accelerate
During the first 3 months of acceleration we focus on challenging you on what you really need, introduce you to experts and mentors who can help you, and follow up closely on your progress.
03 Boardroom
After 3 months in the program, you will update the Boardroom on your status and the hurdles you still face. The Board will respond with feedback, connections and hands-on advice.
04 Grow
After passing the Boardroom, it's on to the following 9 months of the program! You will expand your network and work with our team to continue growing your business. We're here for you!
05 Boardroom
After 9 months in the program, you give the Boardroom another update on how you're progressing. The Board will help you along with more feedback and support, as long as you are still motivated.
06 Mature
Our coaches help you build plans and navigate challenges. Meanwhile our Academy builds your baseline skills through mandatory & optional sessions to master advanced skills as you progress.
07 Workshops
Throughout the entire year our awesome coaches give next-level workshops on sales, marketing, finance, fundraising, pitching, legal, tech and more, tailored to your startup's growth phase.
08 Graduate
After 12 months, it's time to spread your wings and fly out into the world. As a Start @KBC community member for life, you can still count on our network and get a reduced rate on co-working space.
Let's get to know each other
We love bringing people together. Join us for our events & info sessions!
Learn more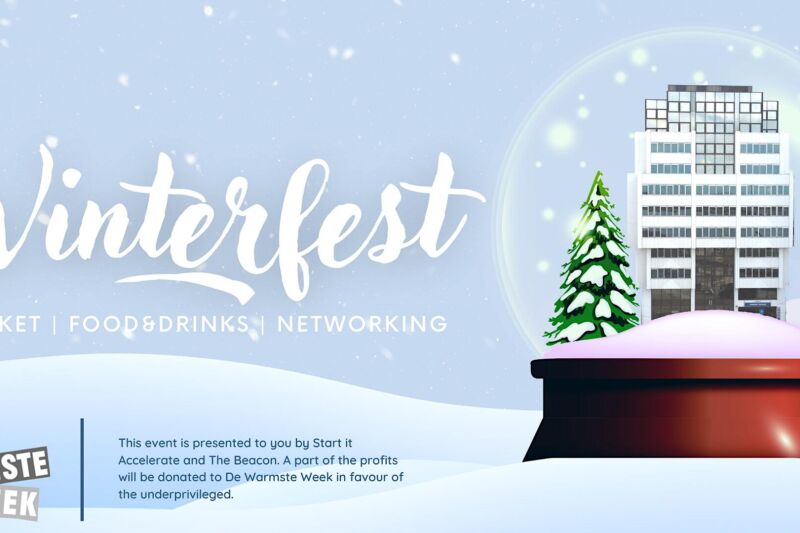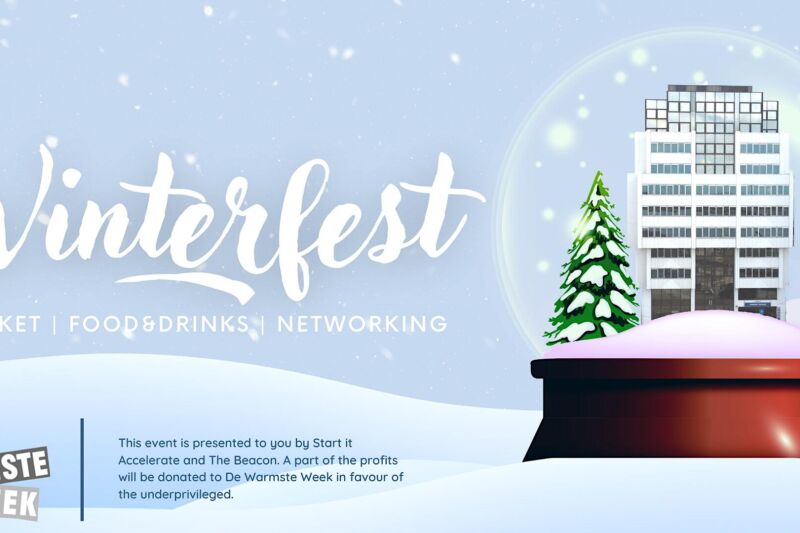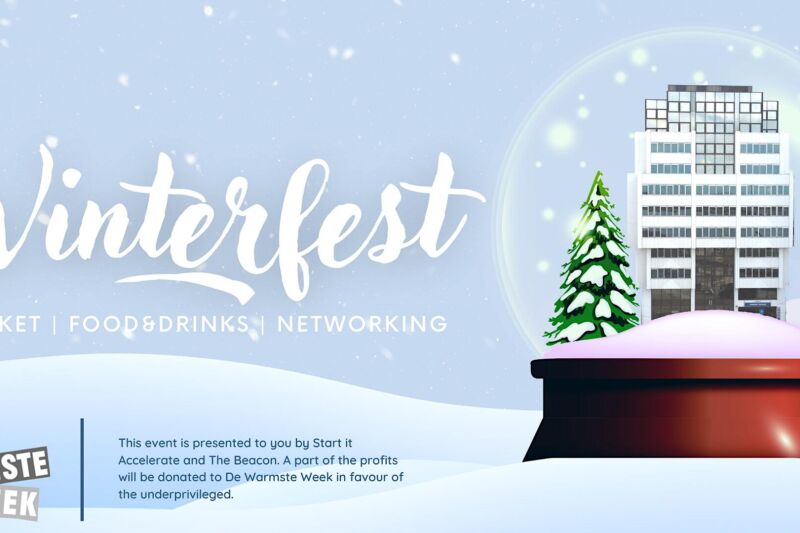 Winterfest | Start it Accelerate & The Beacon
Score unique Christmas presents from our community members. Buy from local entrepreneurs.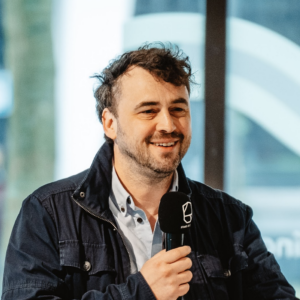 Frequently asked questions
Start it @KBC is an intensive, challenging and founder-centric one-year acceleration program, built by startups for startups. We ask that you take part in the full program from beginning to end, along the timeline shown above.

In a word: NOTHING! That's right: no money, no shares, no special rights for mentors or partners. We are the one and only no-strings-attached startup accelerator in Belgium.
We're there for startups in all industries, at all stages of growth. From ideation to scale-up, we will support your company.